Groundhog Creek Shelter to Standing Bear Farm Hostel. 6.9 miles.
Gave myself a shorter day today so I could spend the night in a tree house at Standing Bear Farm Hostel, pick up a box, wash some clothes, and gear up for a 5000 foot climb into the Great Smoky Mtn Nat Park (GSMNP) tomorrow.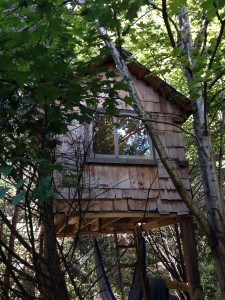 Went through a second bald this morning, Snowbird Mtn,  great view, flowers, critters, and an alien looking pod that hummed. It is some kind of FAA radar. I put on my foil hat as I passed just in case.
I will enjoy the rustic pleasures of this place, along with the drinkable water, hot outdoor shower, and plugs for recharging the phone.